When you imagine the perfect living room, what comes to mind? The expensive furniture? A beautifully decorated room? Hanging art on the walls? There's no wrong answer, because to each person, the perfect living room looks a little differently. One thing is certain, though. Lights for the living room or similar areas need to be warm and welcoming Dainolite has an amazing selection of over 2000 SKUs in our catalogue of turnkey products, giving any new project a huge variety of lighting solutions, sure to fit with any design style. Have a lighting design in mind that's unique and one-of-a-kind? Not to worry, Dainolite is a flexible custom lighting manufacturer, and our team of lighting designers will be happy to work with you to bring your perfect luxury lighting fixtures to life!
Living Room Lighting Ideas for Hotels
Hotel Sitting Areas Need to Feel as Warm & Welcoming as a Living Room
Hotel lobby lighting is one of the most impactful places modern light fixtures can be strategically placed for guests. When visitors walk in the door, one of the first things they'll do is get their group settled into the seating area while one representative waits in line to check in. This is particularly true of families and large groups travelling together.
It's vital that these lobby seating areas have a relaxing tone, so guests can immediately get comfortable. Lights for living rooms are a perfect addition to any lobby furniture design.
Dainolite offers a gorgeous selection of luxury pendant lights, which are sure to encourage guests to enjoy your accommodations before they've ever been to their rooms.
Hotel lobby lighting isn't the only area that can benefit from Dainolite's amazing selection of contemporary lighting fixtures. Common areas with chairs and side tables are often found near bay windows on some floors, where guests can chat while they enjoy the view.
Our collection of beautiful modern floor lamps both decorative and task are a great fit for these viewing areas, no matter what your decor style might be.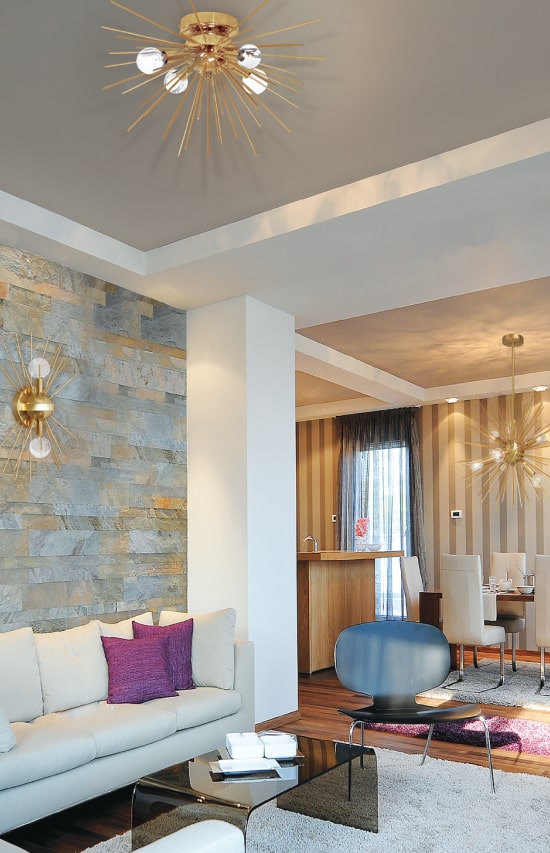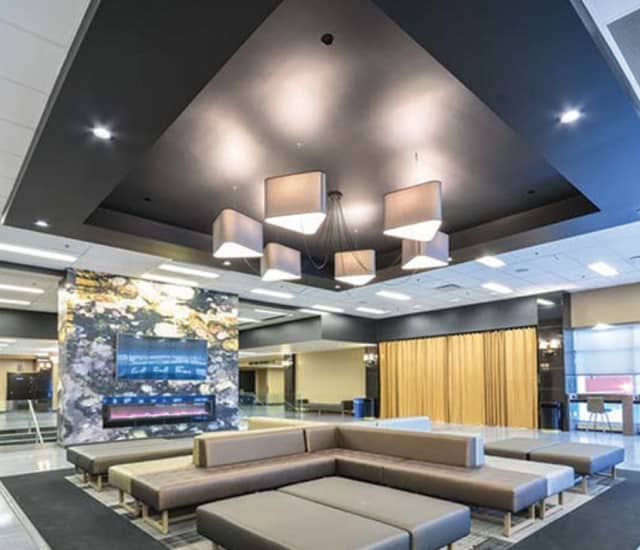 Showcase
Dainolite proudly provided custom light shades for the hospitality lighting within the Chicago Fire Club House. These stunning luxury lamp shades add elegance and warmth to the experience of both staff and guests alike.
Contact Us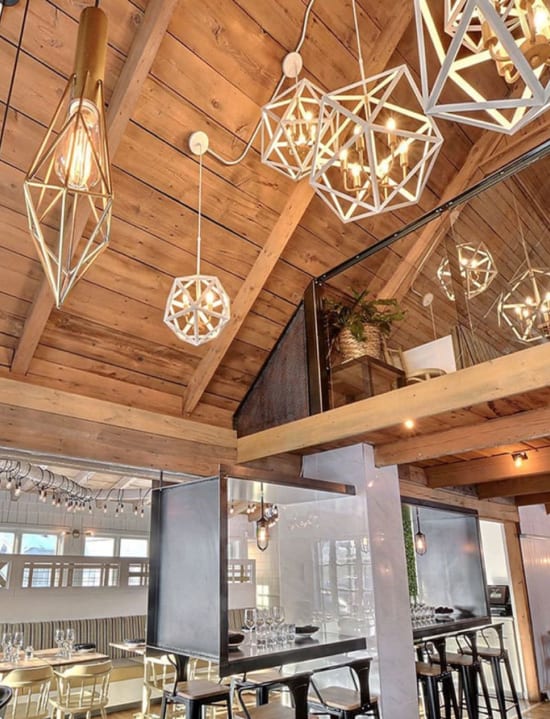 Modern Living Room Lights for Waiting Areas
Restaurants & Offices Can Benefit from Living Room Lighting Ideas
Restaurants and office buildings don't have a lot in common, but there one place where they can benefit from similar designs: waiting areas.
Guests waiting for their tables are shuffled over to a small sitting area. The same could be said of office visitors who are waiting for an appointment time.
These areas often fall short when it comes to comfort, but it doesn't need to be that way. Using living room lighting ideas in these boring waiting areas can turn it into a place for visitors to relax and enjoy.
Dainolite offers a stunning array of flush mount and semi-flush mount lights that are guaranteed to be attractive, efficient and most importantly, affordable.
Our high-quality modern light fixtures are sure to help keep any visitors happy.
Lighting for Your Living Room at Home
While many businesses may try to simulate a living room design in their spaces with living room lighting ideas, nothing feels quite the same as your own home.
Our personal space is precious to us, and many people pride themselves on having lavish lighting designs. It's a way to show off their good taste to friends and family.
Through this trend of luxurious modern light fixtures, people with vaulted or raised ceilings in their living rooms have begun using contemporary chandeliers for their home lighting solutions.
Dainolite has a number of beautiful modern chandeliers that are guaranteed to make the perfect centerpiece to any living room lighting design.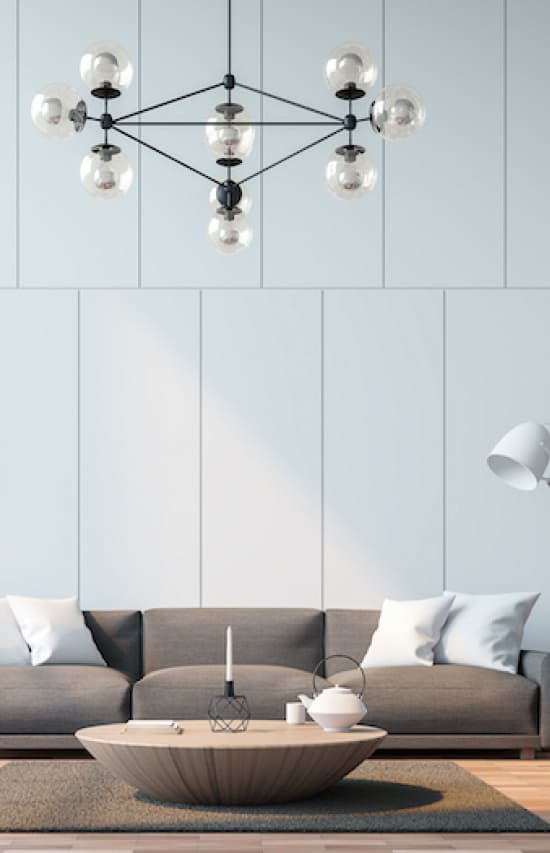 Custom Living Room Lighting Ideas
Whether it's for business or at home, living room lighting ideas need to speak to the designer, contractor, specifier or DIY'er who's putting together the lighting designs.
And Dainolite understands that sometimes finding those perfect lighting solutions means thinking outside the box. We may have a vast catalogue of turnkey products, but sometimes those aren't enough.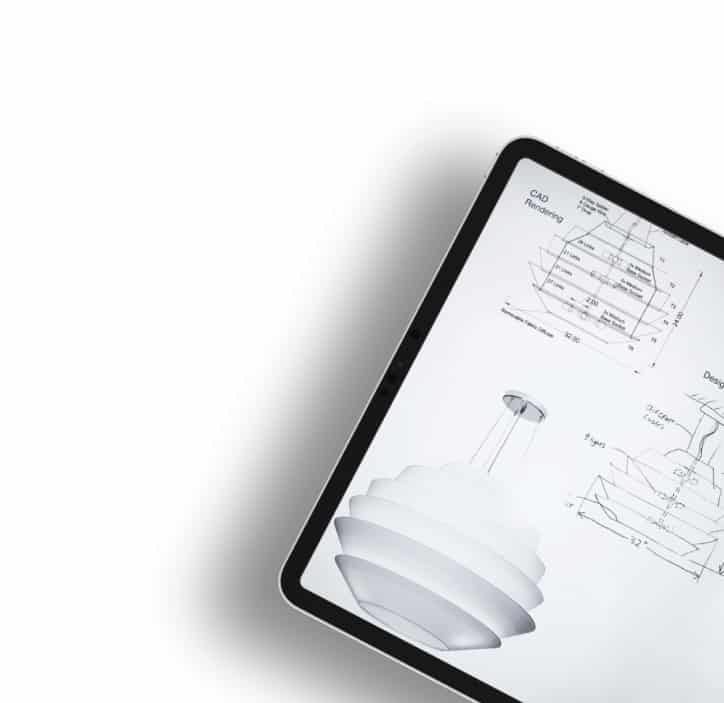 Not to worry! Even if you can't find what you're looking for within our turnkey catalogue, as one of Canada's premiere custom lighting manufacturers, Dainolite's team of expert lighting designers will work with you to help bring your kitchen lighting ideas to life. If you can draw it, we can build it!
Contact us